Argentex sees revenue, profits rise in FY22
FX specialist Argentex saw a continued uptick in revenues in FY22, driven by lifted Covid restrictions and new customer acquisition. After launching its newly refreshed online platform earlier this year, the company is investing in new hires, evolving technology and expanding to new geographies (primarily Australia) in FY23.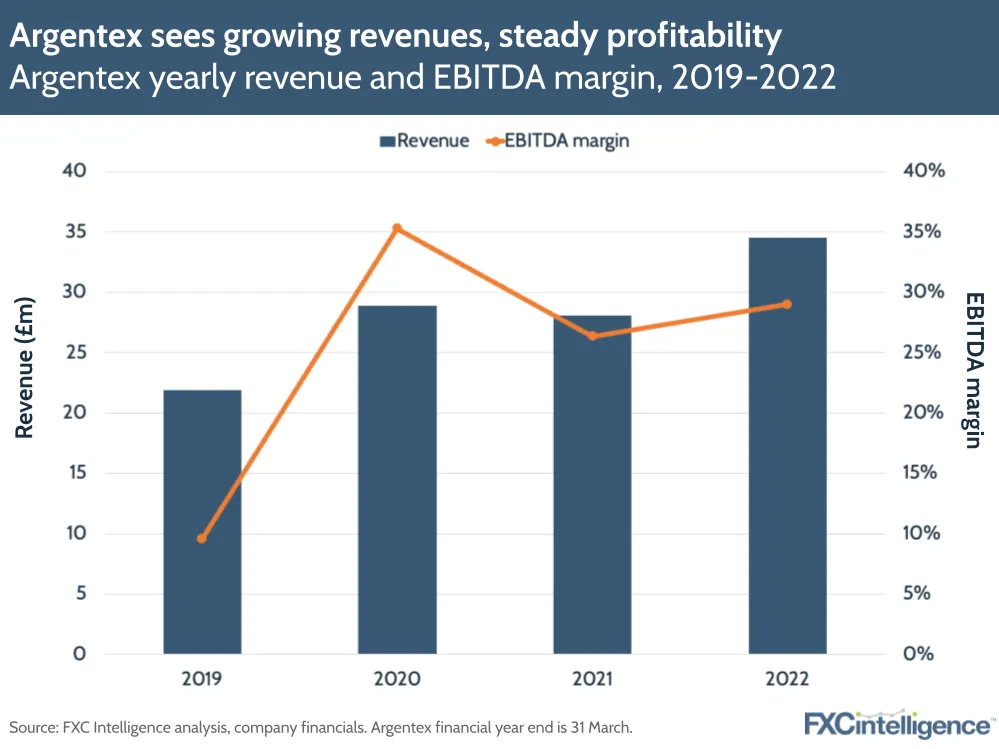 Key takeaways from Argentex's FY22 results
Here are the key takeaways from Argentex's FY22 earnings:
Group revenue increased by 23% to £34.5m, including £8m from new clients. Argentex said that client trading volumes recovered in H2 22, which contributed 54% to annual revenues. It's also been a good start to the new financial year, with Q1 2023 revenue increasing by 22% YoY to £10.1m.
Technology investment is a big focus for the company, which launched a new version of its online platform in 2022. The refreshed platform helped ramp up client trades in H2 22 and led to a record month in March, with 391 trades completed (up from 123 in March 2021).
Unlike in previous years, the company opted not to report its FY22 foreign exchange turnover, although we know H1 2022 saw a 67% YoY increase for this figure.
Argentex served 528 new corporate clients in FY22, and the number of corporate clients served in FY22 overall increased by 17% YoY to a record 1,624. Average revenue per customer rose 4.7% to £21,244.
This client base is also becoming more diversified, with 36% of revenue represented by Argentex's top 20 customers, down from 41% in FY21.
Over 80% of Argentex's volumes comprised trades in sterling, euro and US dollar, which the company said limited its risk of exposure to volatility from exotic currencies. The flip side of this is it concentrates its revenue in a smaller number of corridors.
Argentex will continue to push into new markets in financial year 2023. It says it is at an advanced stage of hiring and is seeking regulatory approvals to launch into the Australian market this year.
The company did not include revenue/profit expectations for the coming financial year in its report, but is "confident that the level of revenue growth will continue as expected in FY23". Let's see.