Whether via a special purpose acquisition company (SPAC) or the more traditional IPO route, the number of payments companies seemingly on the verge of going public is substantial. And as we wrap up the first quarter of 2021, we're taking a look at those most likely (or heavily rumoured) to make their public debut next.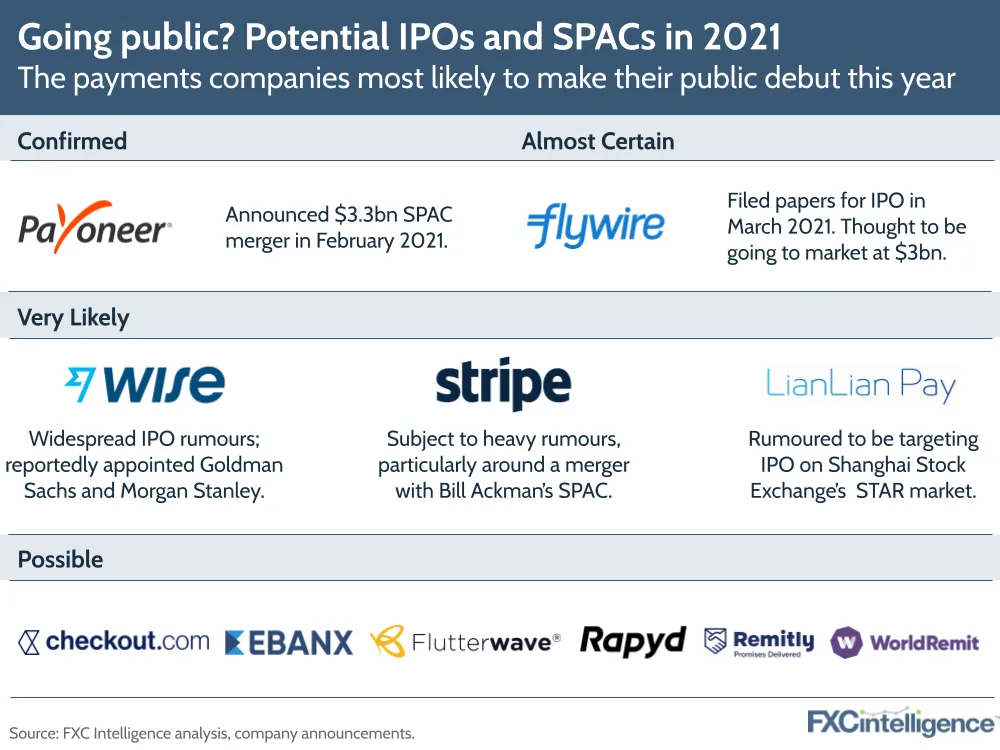 We've already seen Payoneer become the first high-profile company in the cross-border payments space to go public in 2021, through a merger with a SPAC owned by Betsy Cohen. Flywire is seemingly close behind, having filed papers for an IPO last month, but who is mostly likely to follow after that? Paysafe successfully went public on the NYSE this past week as a result of its 2020 SPAC deal.
Wise and Stripe have been the subject to considerable rumours, with Wise in particular having been reported to be looking at multiple possible routes to public markets on both sides of the Atlantic and potentially a direct listing (i.e., not raising any new capital). China's LianLian Pay, an ecommerce leader, is also expected to make its public debut in Shanghai this year.
There are also a range of companies whose CEOs have hinted at an IPO or SPAC merger in the short to medium term, and who may yet make their entry this year, including Checkout.com and Ebanx, as well as those who are simply the subject of publicly reported market rumours, such as WorldRemit and Remitly.
With the markets as strong as they are right now and cross-border payments hot, we would not be surprised to see more names added to this list.
Sign up to our newsletter to stay up to date on industry developments