Santander's PagoNxt sees sharp revenue rise in Q2 22
Santander's Q2 22 results included a quarterly update on its payments subsidiary PagoNxt. The bank's payments arm saw 92% YoY revenue growth to €236m in Q2, while pre-tax losses fell by 28.2% from -€46m to -€33m.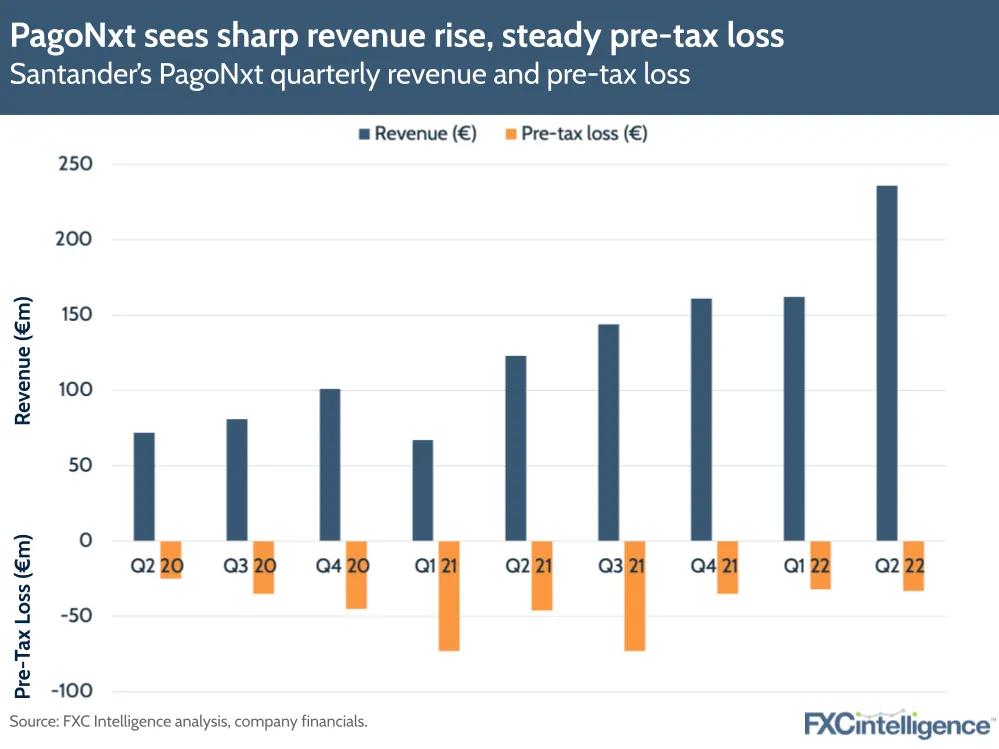 Overall, PagoNxt increased total income by 87% to €398m in H1 22. This growth was driven by increasing business activity and volumes across regions, especially in PagoNxt's merchant acquiring (Getnet) and trade (Ebury) businesses.
Getnet was the key growth driver. It achieved €74.6bn in total payments volume, a 35% increase backed by growth in Europe (53%), Mexico (38%) and Brazil (23%). High growth in Europe, the company said, was linked to exposure to high-growth verticals in Spain.
PagoNxt outlined plans for LatAm in Q2 22
Santander in particular talked about how it will boost its growth in the Brazilian market. PagoNxt plans to acquire minority interests in Getnet Brazil, which grew 23% in H1 driven primarily by its ecommerce offering. The company now wants to leverage Santander's Brazilian sales channels to reach new opportunities in the region.
Meanwhile, Ebury – which delivers cross-border trading solutions for businesses – acquired Brazilian fintech Bexs, which will allow it to facilitate international ecommerce transactions for more Brazilian SMEs.
The platform also implemented new cross-border payments capabilities for Santander España and new Trading FX capabilities for Santander Chile in Q2, and aims to launch its LatAm consumer-focused Superdigital business in Colombia, Peru and Mexico soon.
PagoNxt is on track to achieve its target of 50% revenue growth for 2022, according to Santander. Moving forward, the company is focused on scaling up the PagoNxt platform; accelerating commercial growth; pursuing distribution partnerships and increasing market penetration in Europe, the Americas and other strategic regions.