Bitcoin, cost efficiencies drive Block Q2 2023 earnings but investors unconvinced
Block, the parent company of merchant payment services major Square and P2P payment brand Cash App, has once again posted strong Q2 2023 earnings.
The company saw a 26% YoY increase in overall revenue to $5.5bn, while gross profit increased 27% YoY to $1.9bn. Block also posted record adjusted EBITDA numbers, which increased 105% YoY to reach $384m.
This, along with a focus on cost efficiencies, has prompted Block to increase its full-year projections. The company now anticipates $25m in adjusted operating income, up from its previous projection of -$115m, and adjusted EBITDA of $1.5bn, up from $1.4bn.
However, 43% of revenue was once again from Bitcoin, which historically has proved highly volatile for Block, and the company posted an operating loss of $132m – an improvement on Q2 2022's $214m operating loss but considerably above the $6m loss that the company saw in Q1 2023.
This – combined with suggestions from CEO Jack Dorsey that the company was reviewing share-based compensation alongside other potential cost-cutting measures – led to a negative reaction from investors, with share prices declining following the results.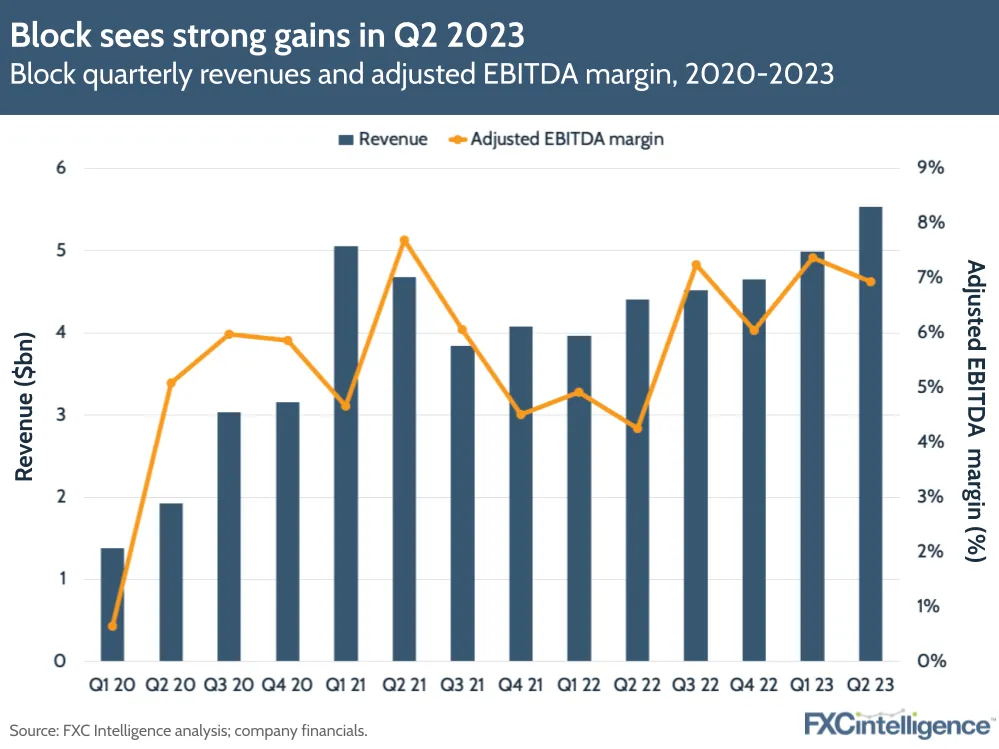 Block CEO Jack Dorsey eyes cost savings in Q2 2023 results
As with much of the payments industry, Block has increasingly been focused on refining its business operations to focus on performance management and cut inefficient costs. This, said Dorsey, was part of a wider goal towards achieving gross profit retention of 100%+, while achieving 'Rule of 40' on adjusted operating margin – an increasingly popular growth measure where growth rate and profit margin should together total above 40%.
The CEO is targeting this for both Square and Cash App, and highlighted several efficiency moves in Q2 2023 that were made in pursuit of this goal. This included a reduction in the pace of hiring to focus on critical roles, as well as reducing spend in sales and marketing to prioritise high-return channels.
The company has also closed certain operations in regions where they are not achieving expected growth and profitability, including the Cash App Verse brand in the EU and the company's BNPL brand Clearpay in Spain, France and Italy.
Gains from these initiatives, as well as the use of automation and machine learning to manage risk, have resulted in the company's improved FY 2023 outlook, according to Dorsey.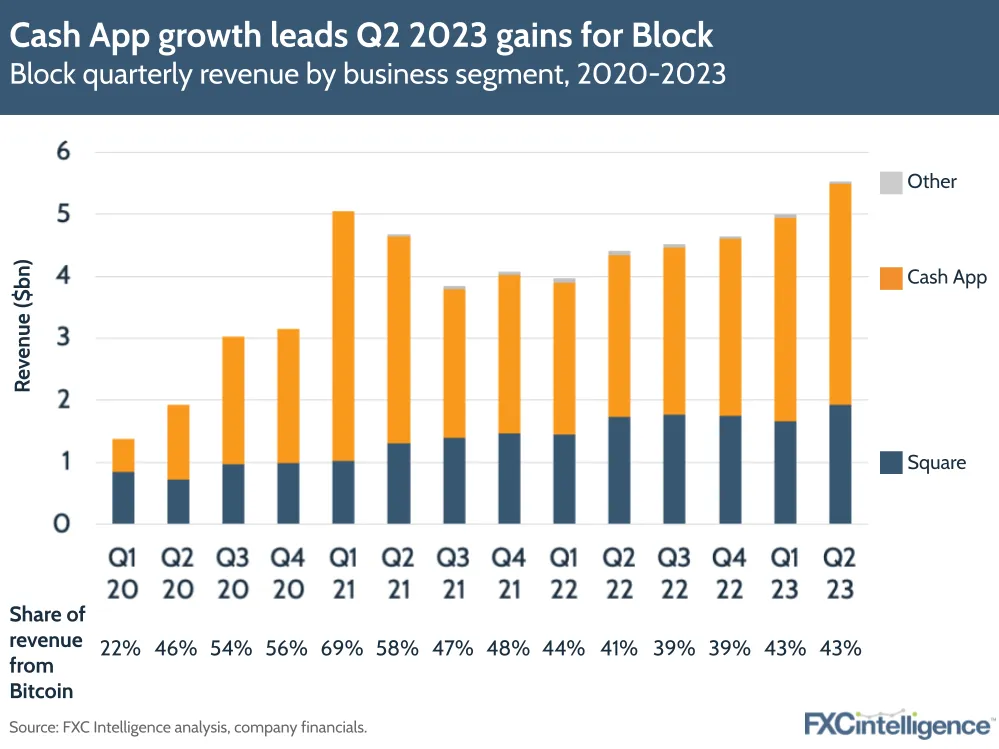 Square looks globally for growth
For Square, the company saw a 12% YoY increase in revenue to $1.9bn, while gross profit increased 18% to $888m. Square also saw a 12% increase in gross payment volume (GPV), which reached $54.2bn in the quarter.
Notably, much of this GPV growth was in card-present channels, primarily physical retail, which saw a 16% YoY increase; meanwhile card-not-present, which is largely online retail, saw a 5% increase over the same period. However, international markets were the biggest driver of GPV growth, seeing 26% increase YoY (32% on a constant currency basis), compared to 10% in the US market.
Global expansion was key for Square this quarter, with the company seeing non-US markets account for 16% of its gross profit, at $141m. This is one percentage point up on Q2 2022, and 10 percentage points up on Q2 2020, when the non-US share stood at 6%.
The company is also increasingly looking to increase the share of mid-market sellers adopting its ecosystem, enabling it to grow upwards and so increase its profit from each customer. Here, mid-market sellers now account for 40% of GPV, compared to 39% in Q2 2022 and 35% in Q2 2021. This will continue to be a goal into Q3 2023, with the company reorganising its outbound US sales team in July in pursuit of this target.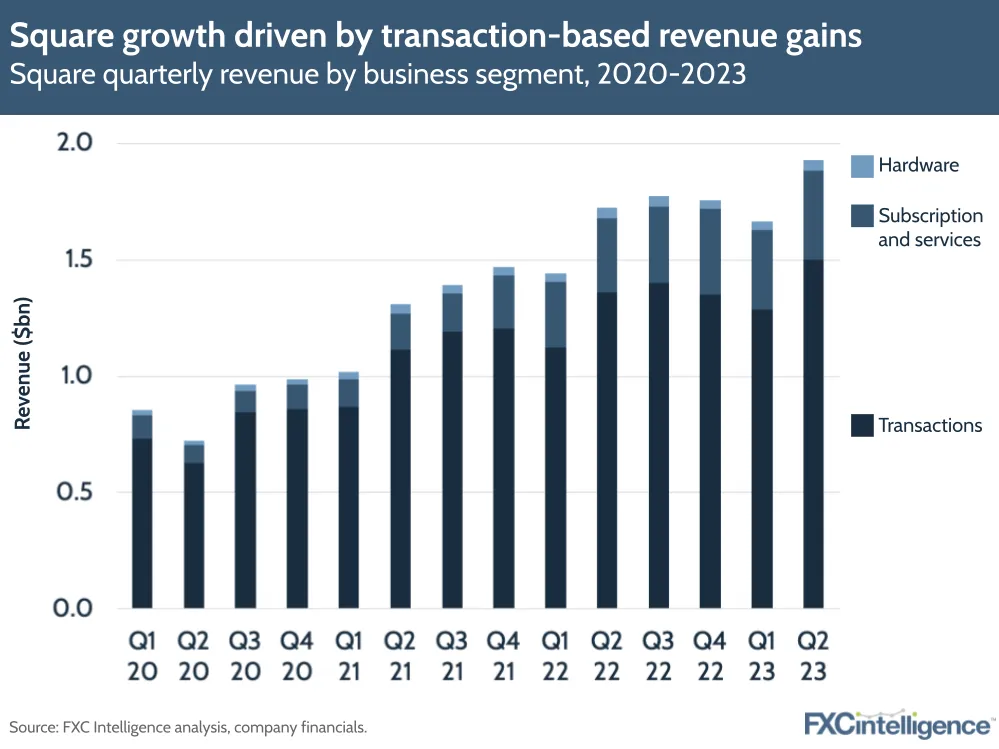 Cash App continues to be driven by Bitcoin gains
For Cash App, meanwhile, the company saw a 36% YoY increase in revenue to $3.6bn, while gross profit increased 37% to $968m.
However, Bitcoin continues to dominate Cash App's income, accounting for 67% of revenue in Q2 2023. Without Bitcoin, Cash App reported $1.2bn in revenue, a 39% increase, while Bitcoin revenue saw a 34% YoY increase to $2.4bn.
The company is looking to build on its Bitcoin presence with the launch of Block's self-custody bitcoin wallet Bitkey, which in June gained its first global partners: Coinbase and Cash App.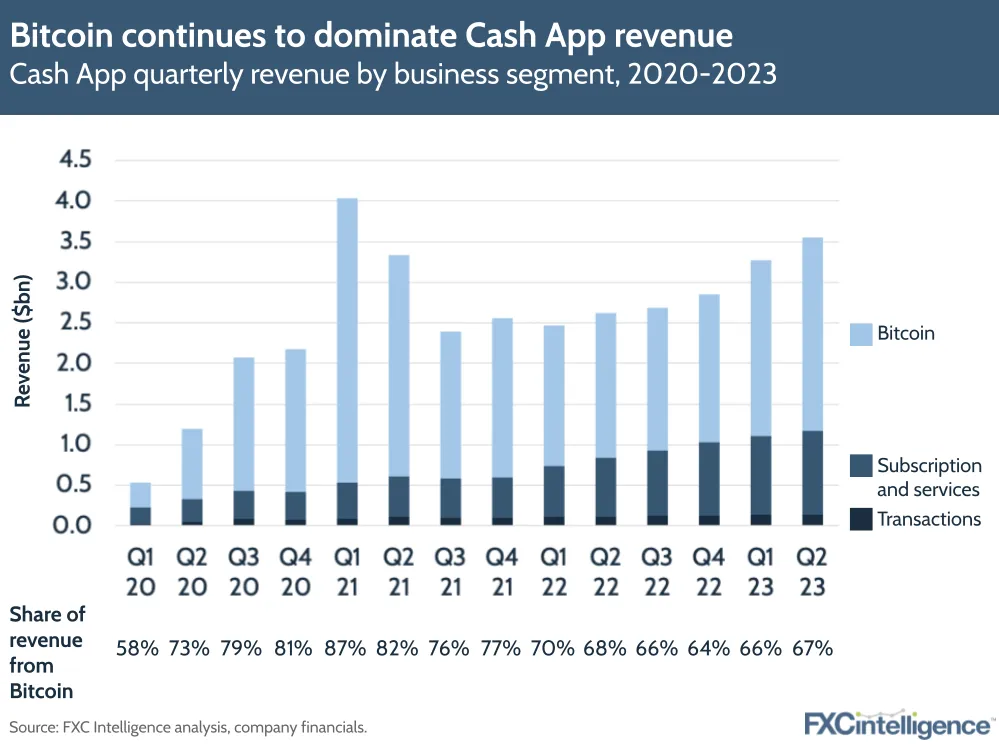 Beyond Bitcoin, however, Cash App is seeing gains. Its P2P volumes reached an all-time-high in Q2, at $53bn, while monthly transacting active users for June increased 15% YoY to 54 million. This is an area that Cash App is focusing on growing; the company sees increasing the sizes of customers' individual networks on the platform as key to increase utility and therefore use.
The company has also seen increases in its US-based Cash App Taxes product as well as its ecommerce offering that allows customers to pay directly with the wallet via Cash App Pay. In Q2, the company launched the platform with several key clients, including Steve Madden and Fenty Beauty, as well as expanding to payment providers including Stripe and Adyen.