Financial services in Indonesia: Driving digital inclusion
Following an increase in illegal lending during the Covid-19 pandemic, Indonesia is trying to increase financial inclusion and boost the growth of digital banking in the country.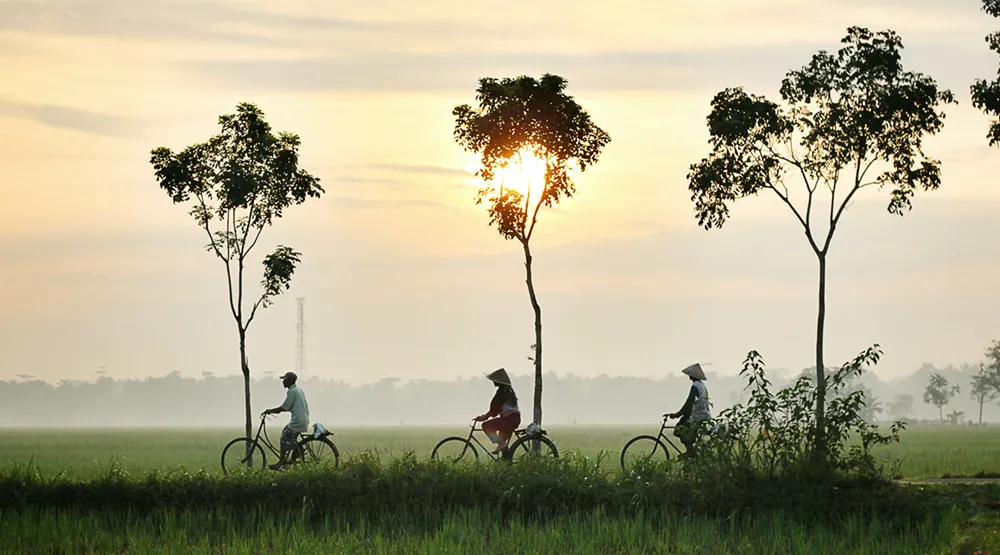 High smartphone penetration and a large proportion of internet users is propelling demand for digital financial services in Indonesia. The country was one of the first in Southeast Asia to embrace digital banking, with Bank Indonesia estimating that digital banking transactions amounted to $2.25tn in 2021.
However, in recent times the country has faced calls to create a more financially inclusive environment and boost the growth of digital banking in the country, giving an underserved population better access to their finances. World Bank data shows that just over 51% of Indonesian citizens currently don't have a bank account, making it a largely cash-based economy and one of the largest financially underserved markets in Asia.
The question now is: how is the country answering calls to become more financially inclusive, and will these changes spur more digital growth in the coming years?
Impact of Covid-19 on Indonesian banking
The Covid-19 pandemic has spurred a movement towards digital banking in Indonesia as consumers have looked for more efficient ways to conduct transactions online. However, it has also seen an increase in illegal lending, exposing a need for more legitimate banking options.
As a result of financial upheaval caused by the pandemic, many Indonesian families have turned to illegal lenders that supply quick, easy unsecured loans with unreasonably high interest rates. One example is Bank Emok, which offers loans to groups of borrowers (a minimum of 10 women) with interest up to 20% monthly, despite the central bank (Bank Indonesia) putting a cap on credit card rates at 1.75% monthly. All borrowers need to secure a loan from the lender is an ID card and their husband's signature.
Many individuals and organisations have called for the government to shut down Bank Emok due to its steep repayment plans, as well as create a more inclusive financial environment. In response, the government has made progress with two key financial directives; its National Strategy for Financial Inclusion, and a major update to its financial regulations.
Financial inclusion in Indonesia
Through its National Strategy for Financial Inclusion scheme, the Indonesian government aims to achieve 90% financial inclusion by 2024, with a specific focus on women.
A key part of this will be creating better access to digital banking services that enable saving and borrowing, improving the country's digital infrastructure and encouraging the adoption and acceptance of digital payments. However, it appears that much of the innovation made so far is benefiting those that are already financially included.
As Indonesia attempts to fold citizens into its existing banking systems, fintechs are also trying to build a more financially inclusive community in Indonesia. For example, open finance platform Ayoconnect recently partnered with Bank Rakyat Indonesia (BRI), the largest Indonesian bank, to launch digital financial services targeted at achieving wider financial inclusion.
Indonesia is now looking to open up to fintechs (in particular, digital banks) by fundamentally changing its regulations.
Financial regulations change to support digital inclusion
Indonesia seems to be borrowing the virtual lender strategy from neighboring countries, such as Hong Kong and Singapore. In December 2021, Indonesia's financial services authority, OJK, enacted new regulations that allow tech companies to list on the country's domestic stock exchange.
Under OJK Regulations No. 12 and No. 13, foreign organisations are allowed to hold up to 99% ownership of a domestic financial institution. This is a change from the previous rule, which allowed only 40% foreign ownership and did not approve licences to digital-only banks. The new rule allows fintechs to partner with banks in the form of ownership, operational and product development synergy, as long as the minimum capital of IDR 10 trillion in cash is met.
These changes to the regulations are expected to spur the growth of digital banking in the country, and have already seen major banking players shift to a digital approach. Following the enactment of regulation 12 and 13, PT Bank Rakyat Indonesia Agroniaga (now PT Bank Raya Indonesia) changed its business model to become a digital bank.
Fintechs in Southeast Asia seem to have quickly understood the profitability of the digital revolution and are diving into the Indonesian market. This will be crucial, as fintechs have the data and technological capacity that the banking sector needs to drive financial inclusion, especially among the tech-savvy young and lower-income population.
Fintech mergers and acquisitions in Indonesia
The digital financial services offered by fintechs are expected to bring positive knock-on effects for the economy. There have been several acquisitions and mergers since the regulations came into effect, with an influx of regional tech companies expected to build a larger digital ecosystem that will foster financial inclusion. Some of these recent acquisitions and mergers are mentioned below.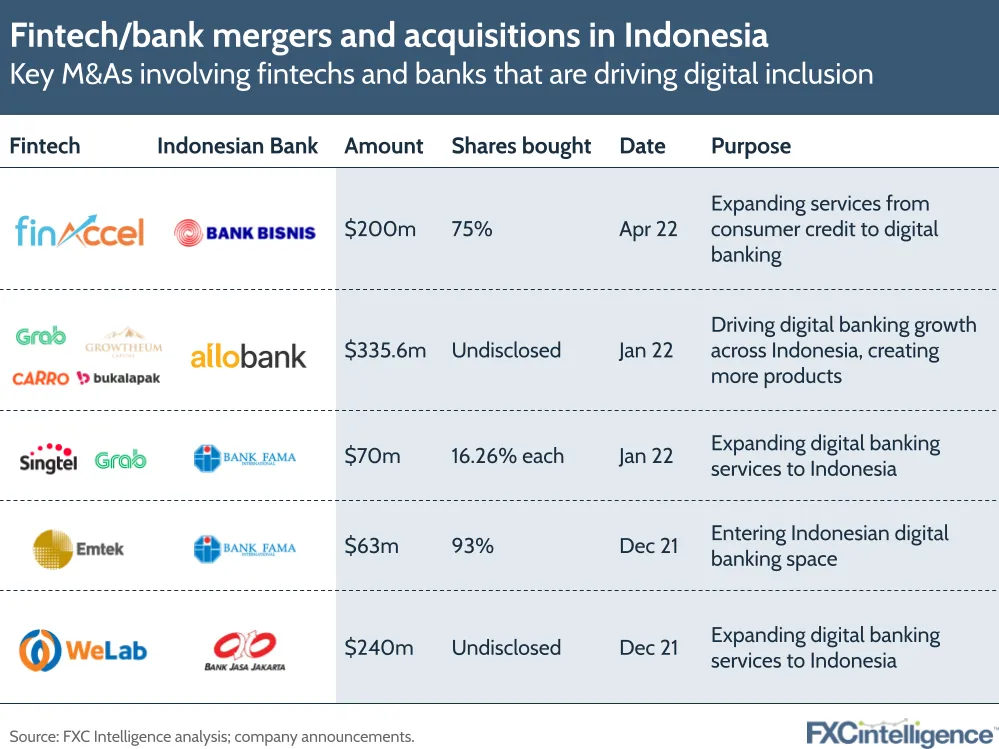 Among the mergers and acquisitions included in this table are a couple of highlights worth exploring further. One is Hong Kong-based WeLab, which launched its plan to build a pan-Asian digital banking platform in 2019 after raising $240m to acquire Indonesian bank PT Bank Jasa Jakarta (BJJ).
WeLab, which also provides virtual banking, started a licensed online lending app called Maucash in partnership with Astra International in 2018. Maucash currently has more than three million Indonesian users, and its rapid growth highlights the importance that lending services have had for people in the country over the last few years.
Meanwhile, shares in Allo Bank have been acquired by Bukalapak, a major e-commerce player in Indonesia; Grab, a Southeast Asian super app; Carro, an online used car sales platform from Singapore; and Growtheum Capital Partners, a Singaporean private equity firm. Talking about the acquisition, Grab Indonesia country managing director Neneng Goenadi said that injecting the capital into Allo Bank would help it build an open banking ecosystem, which would help drive digitalisation and financial inclusion across Indonesia.
Major players are extolling the benefits of digital banking for greater financial inclusion in Indonesia. With the country adjusting its regulations to encourage significant fintech partnerships, it will be interesting to see the role new challenger banks play in driving financial inclusion across Indonesia in years to come.