International Money Transfer Index – IMTI™
FXCintel's International Money Index, provides users with pricing data of international bank-to-bank money transfers from across the globe, including banks based in the United States, the United Kingdom, Germany, France and Australia.  IMTI is most often utilized by those in the international payments industry,  including banks, international money transfer companies, corporates, consultancies or any individual seeking to better understand the international payments space.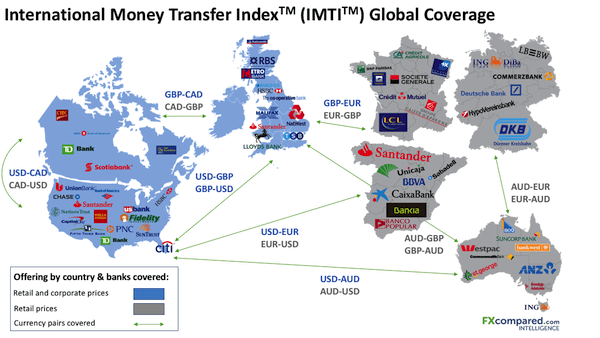 Banks Surveyed
FXCintel surveys several major banks from each country.
UK: Barclays, HSBC, RBS , Natwest, Lloyds Bank, Halifax , Santander, Metro Bank, Nationwide (building society)
US : Bank of America, BMO Financial Corp, Capital One, Citi, Fidelity, Fifth Third Bancorp, JPMorgan Chase, PNC Financial Services, Santander U.S. Bancorp, Union Bank, Wells Fargo
Australia: Commonwealth Bank of Australia, National Australia Bank Limited, Westpac Banking Corporation, Australia and New Zealand Banking Group Limited (ANZ), St.George Bank Limited, Bank of Western Australia Ltd, Suncorp-Metway Limited, Bendigo and Adelaide Bank Limited
Canada : Royal Bank of Canada , Toronto-Dominion Bank, ScotiaBank , Bank ofMontreal , CIBC
Methodology
FXCintel builds the IMTI monthly by collecting offered bank fees and foreign exchange rates through mystery shopping. Shoppers inquire about transactions ranging from small, remittance-type numbers ($1000 USD) to large, corporate numbers ($250,000 USD+). The IMTI number is a weighted average that reflects that various sizes of institutions that exist within the market. Banks' offered rates for international money transfers vary widely across countries and transaction sizes. Below, we have provided a fully worked example.

The table above provides the cost to customers transferring GPB 1000 from various UK banks to France, requiring a conversion to Euros. The data reflects May 2016. This data was collected from each bank via telephone, and the interbank FX rate was noted at the same time as each quote. To calculate the "full cost" between fees and exchange rate, the following methodology was used –
The 'full cost' to the sender is the fee of GBP25 + FX cost of GBP28 = GBP53
The full cost in percent is GBP53 / GBP1000 X 100 = 5.3%