A resource to help the global cross-border payment sector get through COVID-19
Help for the industry as well as the small businesses that are your clients, suppliers and partners
We are conscious of the tremendous disruption to the cross-border payment industry right now. Many companies, employees and customers are facing an unprecedented period of uncertainty.
To help the industry through this time, we have created a hub which we will be continually updating with helpful resources, best practice and updated guidelines from across the industry.
To keep this hub up to date, we are relying on the help from the best of the industry. Please write to us if you can update on any section below.
We also have included a "help needed" section where any organisation can send us a request and we will list it anonymously and connect you to another industry member who then offers their help. 
Send all information to crisishelp@fxcintel.com
Thank you to everyone who has helped contribute and made this hub possible (names listed at the bottom of this page).
Latest Best Practice
The following are compiled from feedback from industry leaders across the sector.
Communication
Communicate with your customers, employees and suppliers about how you are handling the situation. If you can be ahead of government guidance, all the better.
Be sure to have a plan but be ready to keep updating it. Many business continuity plans were written for a few days down, not weeks or months out.
Can you help solve other problems your customers may have such as helping them find new supply chain partners?
Weekly polling of Pros and Cons of remote working to tweak responses and initiatives
Liquidity and FX management
With higher counterparty risk (banks / debt providers) – draw on facilities earlier to ensure availability of medium term funding
FX markets are less liquid, need to work closely with banks to source FX liquidity at adequate spreads
Volatility in market has resulted in a significant sell off in all currencies (except USD). How should you respond to this?
There are two sides to this. Maintaining your banking relationships to minimise the additional costs as we know margins are being widened. But also recognise the opportunity to carefully extend credit or pay faster, especially with your key customers and suppliers. How you help those in need now may solidify very long-term relationships. 
How quickly can you shut down a corridor if either the send or receive market is forced to close? How do you then minimise the FX risk and the holding of currency for payments you will then be unable to fulfill?
If you are primarily a payments business, what additional processes do you need to help manage volatile FX rates, even in mainstream currency corridors?
Evaluate which financial levers are in place to aid in increased cash flow, seeking new sources of liquidity and ways to minimize burn
If you offer hedging, how much concentration risk do you have in biggest customer(s)?
Systems and backups
Split cloud infrastructure  over different timezone sif possible, so even if a given geographic area becomes unavailable (for example, the UK),  infrastructure will automatically continue to run in another zone.
Continue to test the fail-over and backup systems you need to ensure your company can operate. 
Customer service, liquidity management and the processing of payments are three critical functions.
How are you supporting team members who either have to work in your office/retail location or do not have suitable remote-working environments? Can you deliver extra equipment they might need such as big screens or second screens?
Security and Fraud should consider increased monitoring to ensure that any risks to data and/or fraud are observed even more closely.
Continue stress-testing the capability of the business to operate if and when the situation escalates. How long can you operate with a reduced staff? Do you have enough cushion to float through periods of decreased demand?
Team management and morale
If your team is remote and using a lot of video conferencing, what topics should be used for video conferencing and what should be kept to written updates? Be wary of video conferencing overload
What team socials can you maintain. Drinks (via Zoom) on a Friday. Best home workspace?
Add live activity dashboards and enable info sharing across countries
Add structured to AM and PM calls for sales teams to keep communication channels open and clear
Establish a communication routine with your team. Be conscious of the mental health of your team and talk to them.
Support your workforce. Many employees are now both worker and caregiver – adjust expectations and management styles accordingly to avoid burnout and allow for fast recovery post-crisis
Supporting your customer service teams
Try to connect / liaise your customer service teams with those of your partners.
What other opportunities exist to help your customers through this difficult time? E.g. help them find new partners, manage their risk, manage their cash flows?
Seek new ideas
Many of the best ideas for how to help will come from speaking to your customers.
Governance and Leadership
What policies do you need in place to enable decision making in a remote work environment?
Who are your backups for each senior team member in case they fall ill?
How are you keeping your employees up to date and engaged when working remotely?
Marketing messaging
Be careful and clear with what is essential information, useful information and marketing
Carefully consider tone given the circumstances e.g. be 100% sure humour is appropriate
Client inboxes are full, companies are all saying the same thing – think outside the box and don't send for the sake of sending
Think carefully about any marketing campaigns you have running and whether they are appropriate for the times.
Review any automatic campaigns you have running, particularly online. There are some tone-deaf sales pitches still going on.
Use marketing mails to understand how your customers are doing and what kind of help they need at this moment.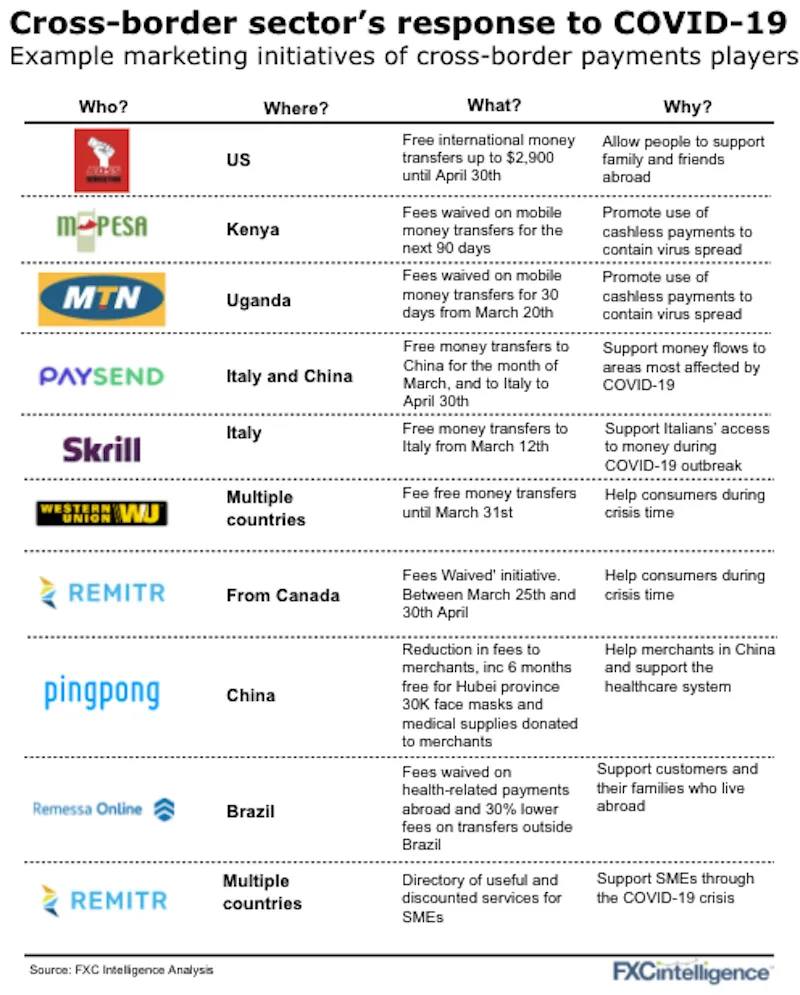 Listed above are example of current marketing initiatives. Please email us at if you would like to add your company's initiative: crisishelp@fxcintel.com.
Country Guidelines
Helpful guidance and links for cross-border payment businesses operating in each country. Information below is to help both payment businesses directly and for the clients they serve. 
If there is a country below you can update on or are able to add information on a country not listed below (we are just getting started so please help), send us an email to crisishelp@fxcintel.com. 
Australia
Coronavirus (COVID-19): information and support for businesses – Australian Government
Canada 
Although no official guidelines were published by the government, the Canadian Bankers Association encouraged banks and payment companies to coordinate on health responses for COVID-19.
Coronavirus (COVID-19): Resources for Canadian Businesses – Canadian Government
Canada's COVID-19 Economic Response Plan: Support for Canadians and Businesses – Canadian Government
China
Updated 2 April 2020 by Payoneer 
There is a stimulus for eCommerce business as consumers go online – providing opportunities for businesses in China
The delayed return of workers in this region has impacted on the economy recovering. This is particularly relevant for SMEs.
Supply chain is still heavily impacted, with logistics hampered by a decline in transportation resources and rise in costs
France  
Updated 17 Mar 2020 by Small World Financial 
Payment services are to remain open, included in the same category as banks as a necessary service.
Decree-law No. 65 of 16 March 2020 on the different measures taken to contain the spread of COVID-19 
Coronavirus COVID-19: support measures for small and large businesses – French Ministry of the Economy and Finance
India
Updated 23 Mar 2020 
Remittances continued to be classed as an essential activity based on new guidance from 23 March. Indian Banking Association
Italy
Updated 17 Mar 2020 by Small World Financial 
Payment Institutions are included in the categories of essential services and remain open for business during the lockdown period, although in the case of agents it depends on the dominant activity of the agent location (e.g. groceries are open, some more discretionary services are closed)
Decree-law No. 64 of 11 March 2020 on the measures to contain and manage the spread of COVID-19
Decree-law No. 70 of 17 March 2020 on the economic measures to protect families, workers and businesses during the COVID-19 emergency
Singapore
Updated 18 Mar 2020 by Nium 
Not aware of regulatory or government guidelines around whether payments businesses or agent locations have to stay open.
Spain
Updated 17 Mar 2020 by Small World Financial 
Payment Institutions are included in the categories of essential services and remain open for business during the lockdown period.
Decree-law 8/2020 of 17 March 2020 on the immediate urgent actions to limit the social and economic impact of COVID-19
Switzerland
Updated 17 Mar 2020 by Small World Financial 
Payment Institutions are included in the broader Financial Services category which remain open.
COVID-19: measures to support businesses – Swiss Federal Council
United Kingdom
No specific government guidance yet for payment companies.
FCA information for firms on Coronavirus (Covid-19) response – Financial Conduct Authority
Coronavirus (COVID-19) guidance for employees, employers and businesses – UK Government.
United States
Updated 6 April 2020, Money Services Business Association
Check at State Level. Filing and regulatory deadlines may be extended but you may need to present your business preparedness plan.
Policy and system updates for both State and Federal Guidelines:  Conference of State Bank Supervisors Guidance
State information regarding licensing, reporting and operations:  State Agency Guidance on Coronavirus (NMLS)
FinCEN – Financial institutions seeking to contact FinCEN should call FinCEN's Regulatory Support Section (RSS) at 1-800-949-2732 and select option 6 or e-mail at FRC@fincen.gov. FinCEN's RSS will continue to be available to support financial institutions for the duration of the COVID-19 pandemic. 
New York State Regulated Institutions and Request for Assurance of Operational Preparedness Relating to the Outbreak of the Novel Coronavirus. Deadline to respond is now extended to 25 May 2020.
Coronavirus (COVID-19): Small Business Guidance & Loan Resources, US Small Business Association
Industry help needed
If you are in need of a partner, help on a payout corridor, liquidity or any other item, please send us an email at crisishelp@fxcintel.com and we will list it annonymously below.
If you can help with any item below, please send us an email to crisishelp@fxcintel.com and we will connect you directly and confidentially with the requestor.
Looking for Fintech partnership for lending services to compliment money transfer services to help provide credit to customers in need.
Thank you to the following people and organisations who have helped contribute to this resource hub:
Paul Byrne, CurrencyFair
Nick Day, Small World Financial Services 
Keith Hatton, Currencies Direct 
Mark Hewlett, Ebury
Matthew Hopper, Ebury
Sebastian Kanovich, dLocal 
Michael Kent, Azimo
Irina Marciano, Payoneer
Christina MacDonald Sikand, Remitr 
Prajit Nanu, Nium
Eginara Nery, WePayOut
Jeff Parker, WorldFirst
Darran Pienaar, Ebury
Leonardo Savoy, BeeTech
Yogesh Sangle, Nium
Duane Swailes, Ebury
Kathy Tomasofsky, Money Services Business Association
Darrone Vaughan, Ebury
Ning Wang, PingPong